Chemical-free drinking water
Dagua offers a unique value proposition for local and international communities with large-scale drinking water treatment projects (flow rates of 5,000 to 500,000 m3/day). Unlike most treatment alternatives, the DaguaFlo process treats raw water without the use of chemicals (coagulants or flocculants), even when contaminated content is exceptionally high.
Scientifically proven and government certified, the DaguaFlo solution has the demonstrated advantage of requiring only water and air for the operation and regular maintenance of its plants. As such, the process generates neither sludge nor toxic waste, which are costly and difficult to manage.
Highly efficient, automated and safe
The DaguaFlo solution not only streamlines plant operations by eliminating the need for chemical products and sludge management, but continuously monitors drinking water quality and plant operations as well. Regardless of variations in the quality of your raw water, you can always count on a reliable supply of high-quality drinking water, with only 60 minutes of operator attention per day.
For additional ease of operation, a telemetric link (modem or Internet) enables you to monitor and manage plant operations from a remote location. As well, the plant makes process adjustments in response to fluctuations in raw water quality and performs regular system cleanings automatically. 
Delivering highly effective water purification and disinfection, Dagua's ozone-membrane process occupies up to 40% less space than conventional coagulation processes. This smaller footprint translates into major savings on infrastructure costs.
The following illustration shows an existing conventional plant that is scheduled to be retrofitted with a DaguaFlo membrane solution (capacity: 80,000 m3/day).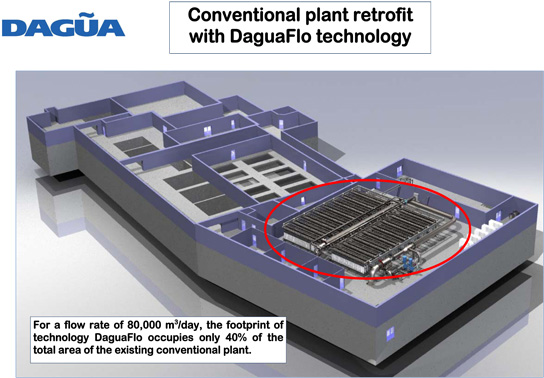 Distinctive economic levers
To provide clients with a compelling value proposition, especially on recurrent operating costs, Dagua combines the following advantages:
Substantial annual savings on chemicals
Automated stand-alone operations requiring minimal operator intervention
No complex sludge or toxic waste management
Very high processing efficiency (minimal backwash water disposal)
No premature membrane wear from intense or repeated chemical cleanings
Reduction in the amount of labour required to operate the plant
Smaller footprint than conventional coagulation processes
Significant reduction in the need for chlorine, as disinfection is complete
No alteration in the pH of treated water and thus no remineralisation required
Dagua's rate structure offers a considerable overall financial advantage when capital costs are combined with operating costs over a 25-year period. In the municipal sector, where operating costs are financed through tax revenues, it is especially important to consider all costs involved when choosing a water treatment technology.
The DaguaFlo system requires no costly chemicals, labour or replacement parts. As such, power represents the main operating cost. These advantages translate into substantial savings on operations, delivering real economic value for our clients.
Following a public call to tender in winter 2010, the Régie de l'Aqueduc Intermunicipal du Bas-Richelieu (AIBR, www.aibr.ca) wanted to equip itself with state-of-the-art equipment to treat its drinking water output of 25,000 m3/day. The AIBR was planning a complete retrofit of its conventional (coagulation) installation using Dagua technology.
The original system was coagulation-based, using settling tanks followed by sand filtration and post-ozonation. Built in 1972, the filtration plant serves 20 municipalities and was expanded in 1982 to increase capacity in response to growing demand. 
The retrofit project presented a number of technological challenges, including the logistics of a three-phase implementation of the technology. Phase 1 involved the deployment of a temporary Dagua processing train with a capacity of 12,500 m3/d in the building next to the plant. Phase 2 involved implementing the permanent, second 12,500 m3/d processing train inside the existing building. Lastly, Phase 3 involved moving the temporary 12,500 m3/d processing train into the existing building. Because the modular ozone and membrane filtration units were easily implemented, only minimal changes were planned for the building interior.
When the upgrade was completed in 2012, the AIBR increased its production capacity to 25,000 m3/day, with no extension or significant changes to the existing building. The preservation of the existing infrastructure was one of the constraints established for the retrofit project, given the limited size of the property on the shores of the Richelieu River.
The lack of a sanitary sewer system in the AIBR territory presented a problem for all chemical treatment solutions, since both conventional and coagulation/membrane technologies would have required the construction of new waste treatment infrastructures to meet regulatory requirements. The DaguaFlo solution, which was selected through a competitive bidding process, is currently the only available technology capable of treating highly contaminated surface water without releasing toxic waste into the environment during filter rinsing. This advantage over other technologies offers considerable technological and economic benefits, while promoting the principles of sustainable development.
Because the raw source water contains more than 10 emerging contaminants, including pharmaceuticals and hormones, the RFP criteria required an ozonation stage, based on the technology's effectiveness in oxidizing these contaminants. Although these emerging contaminants are not yet regulated in Québec, the international scientific community recognizes ozone as a future solution for their management.
Whether you own or operate municipal, commercial or industrial water treatment installations, our treatment solution will exceed all your requirements. And whether you are looking to deploy a first treatment plant or to upgrade aging facilities, Dagua is available to meet your needs.
Our user-friendly, chemical-free technology features unparalleled treatment effectiveness along with ease of operation and savings, for a unique solution to your needs.